Cancer of the cervix is one of the frequent cancers among Jamaican women. The cervix is the neck of the uterus. Most cases of cervical cancer are associated with the Human papilloma virus, which is sexually transmitted by skin to skin contact.
In 2020, there were a reported 386 new cases of Cervical cancer.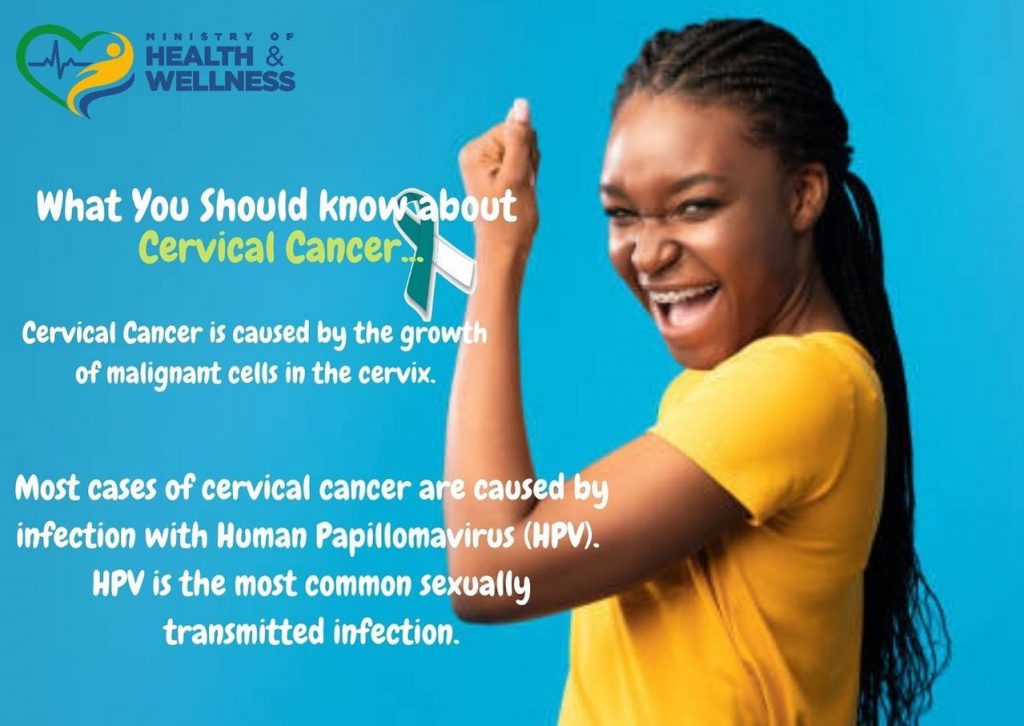 Screening for Cervical cancer is important for monitoring the health of the cervix and detecting any abnormal changes in the cells of the cervix that could later lead to cancer. The 2 main screening tests are Pap smears and the HPV test. Done, regularly these tests can detect abnormalities early, and patients can be referred for treatment. It is recommended that these screening tests start at age 21 years, for women in Jamaica.
Screening is offered through public and private health facilities island wide. Early detection is very important for outcome of a patient with cancer Treatment for cancer varies according to the type and stage of cancer. Treatment may be surgery, chemotherapy, radiotherapy or a combination of these. Palliative care is done for patients with advanced cancer. There are two centres of excellence for cancer treatment in Jamaica – St. Joseph's Hospital in Kingston, and Cornwall Regional Hospital in St. James. Other public and private facilities provide some forms of treatment.
Protection against some of the types of Human papillomavirus is provided by the HPV vaccine which is currently offered to girls 9-14 years of age, in Jamaica.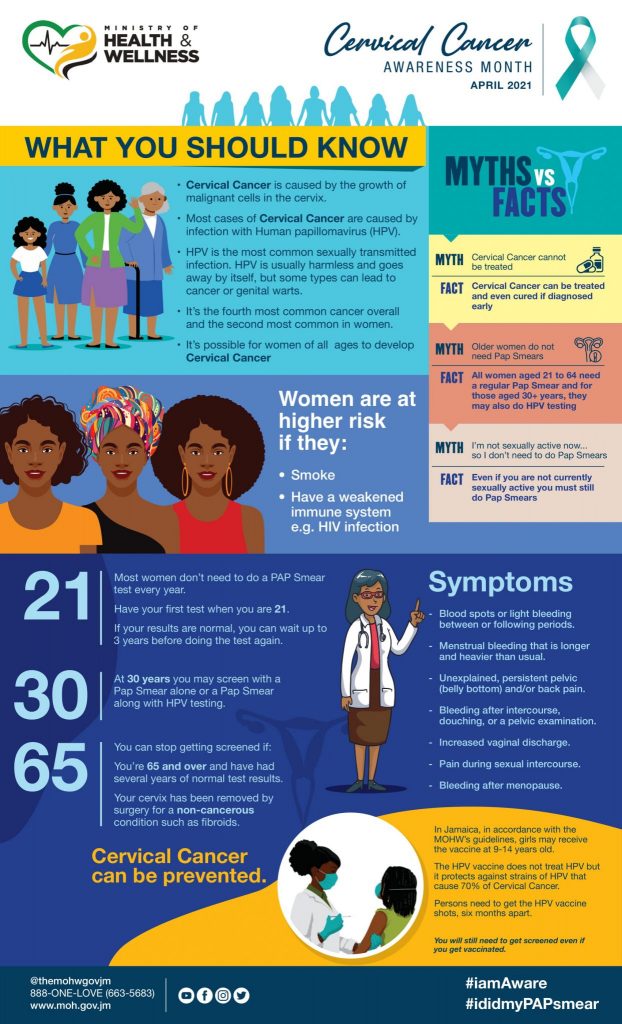 The Jamaica Cancer Society is a partner of the Ministry of Health and Wellness. It is a non-profit, non-governmental organization that provides select cancer diagnostic and treatment services, raises public awareness around cancer, and provides counselling and support services for cancer patients and their families.
They can be contacted at:
Address: 16 Lady Musgrave Road, Kingston 5,
Jamaica W.I.
Phone: (876) 927-4265/ (876) 927-8152/ (876) 927-3317/ (876) 978-5895/ (876) 927-9275
Fax: (876) 978-1918
Email: jamaica.cancersociety@gmail.com
Website:  www.jcs.live